WHO IS THIS GREENFIELD GUY?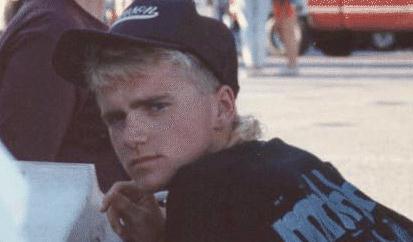 HI! MY NAME IS JOHN GREENFIELD, THE PERSON BEHIND HOT RODS by GREENFIELD. I LIVE IN HANSON, KENTUCKY. I'M 26 YEARS OLD. I'VE BEEN BUILDING MODELS FOR TWENTY YEARS NOW, SIX OF THEM PROFESSIONALLY. I HAVE WON MANY CLASSES IN MODEL CAR SHOWS, HOWEVER I WAS OUT OF THE SHOW CIRCUIT FOR 1998 DUE TO A FAMILY CRISIS, BUT WILL BE BACK BIG TIME FOR THE 1999 SEASON. WHO WAS THE PERSON WHO INTRODUCED ME TO MODEL CARS, HOT RODDING, AND THE LORD JESUS CHRIST, MY HERO, ROLE MODEL,MY BEST FRIEND, AND MY FATHER, THE LATE JOHN P. GREENFIELD, PICTURED BELOW AT OUR COLLEGE GRADUATION. MORE ABOUT HIM ON MY HERO PAGE.
NOT ONLY DO I LIKE MODELS, I LIKE THE REAL THING. BELOW IS ONE OF MY TRUCKS. 1948 STUDEBAKER. IT HAS A CAMARO SUBFRAME REAR END &TILT COLUMN. IT WILL HAVE A 350 THAT CAME OUT OF A CORVETTE, AND WILL HAVE LATE 50'S CORVETTE FINNED VALVE COVERS. I PLAN ON SMOOTHING AND SHAVING THE BODY DOWN, MAKING A FRONT ROLL PAN IN PLACE OF THE FRONT BUMPER. AND ALSO ADDING A ROLL PAN TO THE BED TOO. I CAN'T WAIT TO START BACK ON IT, IT IS ON HOLD FOR NOW BECAUSE OF MY SPECIAL PROJECT 67 CHEVY TRUCK. GO TO MY HOME PAGE TO SEE THE PROJECT 67 PAGE.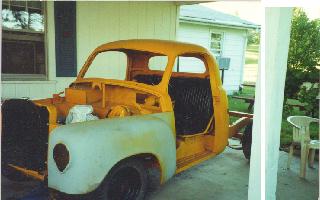 I PLAN ON AND MY DREAM WOULD BE TO HAVE A REAL HOT RODS by GREENFIELD SHOP BUILDING REAL HOT RODS. MY IDEA IS SIMPLE FOR THIS, INSTEAD OF BUILDING CARS FOR THE PUBLIC, I WOULD BUILD A CAR OF MY CHOSING AND SELL IT. I LEARNED FROM OTHER ROD SHOP OWNERS, IT IS HARD TO BUILD CARS FOR OTHER PEOPLE BECAUSE THE CUSTOMIZERS TASTE MAY BE DIFFERENT FROM THE CAR'S OWNER. I LOVE STREET RODS, I HOPE TO OWN AND BUILD ONE DAY A 41' WILLYS COUPE OR A 35' FORD COUPE, OR 36' FORD COUPE, OR 37' FORD ROUNDED TOP COUPE, OR 39' CHEVY COUPE OR....., WELL I THINK YOU GET THE IDEA. I ALSO LOVE STUDEBAKERS, I WOULD LOVE TO HOT ROD AND RESTORE A 1953 STUDEBAKER COUPE, THEY ARE THE MOST BEAUTIFUL FACTORY BUILT CAR EVERY MADE, IN MY OPINION. ALSO ANOTHER CAR I WOULD LOVE TO HOT ROD AND RESTORE IS A 1955 CHEVY, BEL-AIR COUPE I WOULD HOT ROD, AND THE CONVERTIBLE I WOULD RESTORE.
OH ONE OF THESE DAYS I WILL!!!!!!!!!!!!!!!!!!!!!!!!!